Low Fives: The Gym Edition
On a daily basis, Zaina and Boudy are listing their Low Fives when it comes to daily aspects of our daily lives.
We like to keep you up-to-date in case you didn't get to hear those in the morning. Today's Low Fives are about the tormentor of our time and especially during the summer; The GYM.
Zaina has recently joined Boudy on his workouts at the gym with trainer Elie Chidiac and it's been sweaty. So here's The Morning Show's Low Fives: The Gym Edition.
5- Paying for the gym and never going.
We all do it. We want to have a gym membership to know that we can go whenever we want to. The problem is; we never want to. We always register and go for a week and then it's a waste.
4- Seeing all the buffed members and feeling your weakness.
There are two types of people in the world when it comes to the gym; people who register and don't show up and people who practically live there. So, if you decide to go, you won't be seeing any fellow non-fanatic gym-goers, you'll see all the buffed people who will bring your puny workout to shame and make you regret ever showing up.
3- The aftermath
Going to the gym is one thing, but dealing with the soreness that comes afterwards is a whole different deal. If you go once, you'll have to keep going or you will feel pain in every muscle in your body. You'll even feel pain in muscles you didn't even know existed.
2- The sweat
Zaina emphasized the puddles she went through when she joined Boudy for their heavy-duty workout with the trainer and had her name changed to Puddles because of it. I think, enough said.
1-  The will and the motivation needed to actually go.
Without a very stubborn partner, no one will ever have the will to go to the gym at least not if they haven't started yet. Months, nay years, will pass and the sentence, "yeah it's fine, I'll go tomorrow or Monday" will roll from day to the next and besides the registration week, there will be no motivation to go.
The gym is the hardest place to go to but once you do, you always end up feeling better and more energized, you know after the soreness goes away but it's a necessity if you're always sitting down to work. If you're not a fan of the gym, you can always try more outdoorsy activities like hiking, jogging, biking, or any sport. Just keep the words of Elle Woods in your mind;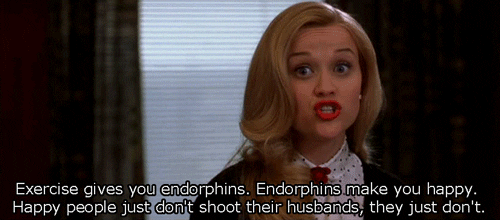 Always looking for the humorous side of life 
Copywriter, Copyeditor, Meme Maker, Blogger, Digital Media Manager